Securing hospital work experience is always a challenge, which is why Runnymede stepped in this summer to lend a helping hand to our aspiring medics.
Seeking to take advantage of the excellent contacts we are lucky enough to count among the parents and guardians of pupils at the school, Biology teacher Adam Mitchell reached out to ask whether any doctors could offer job shadowing experience.
Following the positive response received from parents and through careful organisation by dedicated support staff member Nicola Reid, the placements were confirmed for Ysa H and Miriam B, then in Year 12. Ysa shares her thoughts on the experience below.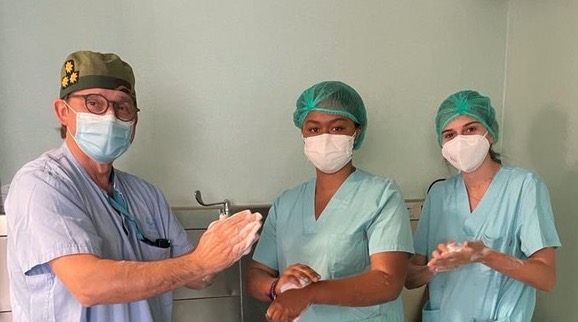 Due to the restrictions imposed by the Covid-19 pandemic, it has been almost impossible for aspiring medical students to gain hospital work experience, where they shadow doctors to get a frontline perspective as to what being a doctor entails. Despite this challenge, Miriam and I were given the extremely rare and amazing opportunity to shadow doctors in two hospitals – Hospital Universitario de Torrejón and Hospital Universitario de Fuenlabrada for seven days. This was facilitated by Runnymede College through their relationship with Dr Luis Sanz, Dra. Susana Diaz, and Dr Santiago Pastor.
During the first five days, while shadowing Dr Sanz, we were introduced to many specialities. From gynaecology to pathology, it was comforting to witness the hospitality and care that each doctor exhibits towards their patients, even during moments of high stress. For example, in the middle of an orthopaedic surgery, the patient, who suffered from dementia, woke up and started moving. We saw how the surgeons calmly pacified the patient and eased her back to sleep (with the aid of some additional anaesthetics, of course). We understood the important task of the anaesthesiologist and that even when a patient is under a calculated combination of propofol and fentanyl, during surgeries that unpredictably result in hours of sedation, the anaesthesiologists and surgeons need to work as a team with the utmost care, respect and focus.
Never straying away from a task, maintaining intense focus and precision for hours at a time, and never making a mistake seem absurd for other professions, but in the twelve surgeries I had the joy of witnessing (six orthopaedic, one ENT, four gynaecological, and one varicose vein removal), it's clear that those standards are the bare minimum requirements for surgeons.
Viewing these heroes in white coats in action was awesome. Still, there was more! On the second day of our shadowing experience, we toured the pathology lab. Pathologists are doctors, but they are not on the front line. Instead, they have the immense responsibility of diagnosing unfamiliar tissues, performing autopsies, and finding the effects of diseases. Pathologists work behind the scenes, so they neither receive a lot of praise nor a lot of blame, but they certainly keep the ship afloat. It is important to note that the pathology experience was enhanced by the Core Practicals we had completed in the A-level Biology and Chemistry curriculum at Runnymede College. This was a wonderful learning experience as it helped me to visualise the possibility of working in a lab in the future.
I learned this career is not for the faint of heart. Unlike many other careers, being a doctor consists of extensive work hours, life-or-death situations, the harmonisation of empathy and stoicism for their patients, and as Dr Sanz said repeatedly, "medicine is full of challenges". Yet, thanks to this experience, I am now more certain than ever that I want to work in medicine in the future. In fact, it was during the most intense scenes in the operating theatre that I was the most focused, the most inspired, and felt the most anticipation for a future of making a difference and helping people to return to living well.
The doctors were very welcoming of Miriam and me. Dr Santiago drew diagrams to explain and prepare us for what we would witness during the surgeries. Dr Susana explained that social policy issues can have a considerable influence on surgeries and patient care. Although Miriam and I kept insisting that we were settled on gynaecology and orthopaedics respectively, Dr Sanz insisted that we left with an awareness of other specialities.
We are incredibly grateful to Runnymede College and specifically to Ms. Reid and Mr. Mitchell, as well as to Dr Sanz, Dr Susana and Santiago Pastor. I for one will never forget this experience. It was awe-inspiring and I cannot wait to be in their shoes.