The Old Runnymedian Careers Talk series continued this term with a presentation from Patricia Clarke, Data Journalist at Tortoise Media, and Sofia Hurtado Knaster, who is in her third and final year of studying English Language and Literature at Oxford.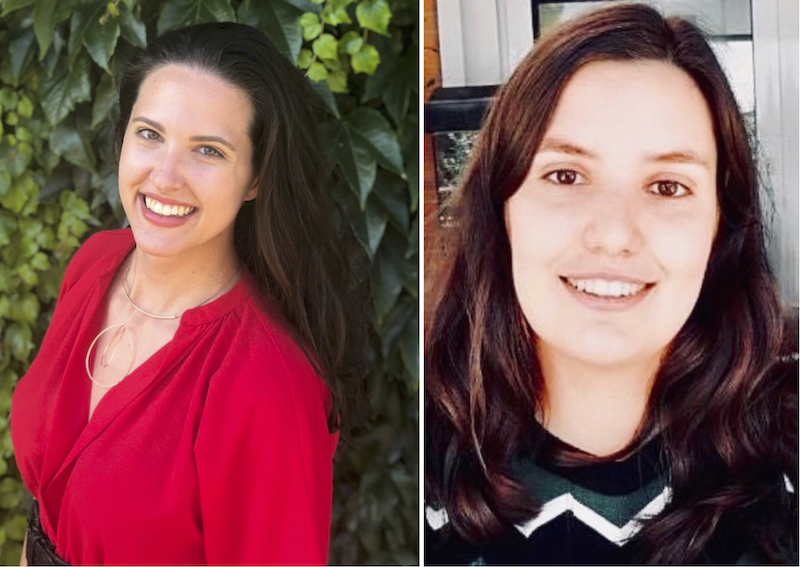 Now a Data Journalist for Tortoise Media, Patricia Clarke graduated from Runnymede in 2012 before going on to achieve a First Class Honours in English Literature and Creative Writing at the University of Warwick. During her time at Warwick, she also completed an Erasmus year at the Université Paris-Sorbonne, and in 2019 she completed an MSc in Digital Journalism at Goldsmiths, University of London, achieving a Distinction. Sofia Hurtado graduated from Runnymede in June 2018 and is currently in her final year at the University of Oxford, studying English Language and Literature.
Wednesday's talk, which was skilfully led by our Head of VI Form, Mr Crumpton, covered the academic and professional trajectory of these two talented young women. Sofia described the advantages and disadvantages of studying English Literature at Oxford, as well as the aspects that make this university experience unlike any other. Patricia discussed her experiences of studying at Warwick and the advantages of completing a year abroad.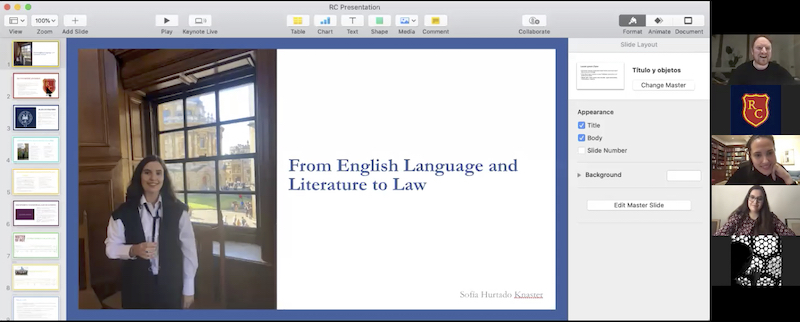 Whilst it was fascinating to hear about Patricia's and Sofia's successes, it was also refreshing to receive the speakers¡ open and honest accounts of having decided on a particular area of study and career path and subsequently making the brave decision to change track. Despite believing they had a clear idea of their fields of interest – medicine and engineering – both Patricia and Sofia discovered that their true passions lay elsewhere. They offered candid advice to students on considering where their natural abilities lie and what genuinely interests them, rather than being influenced by the reputation a certain degree or career may have.
Patricia and Sofia's experiences speak to the success of this approach, demonstrating that we should not be influenced by negative preconceptions about the choice to study a non-vocational subject. Hearing from them made it clear that studying English has led them to acquire a wealth of transferrable skills, opening up a diverse range of professional opportunities. Since graduating from Warwick in 2016, Patricia has worked in various different roles, such as Production Assistant at Brother's Films, Assistant Content Editor at Touchline and Commissioning Editor at Culture Trip. In her current role as Data Journalist for the start-up Tortoise Media, Patricia is helping to build a news platform aimed at young people.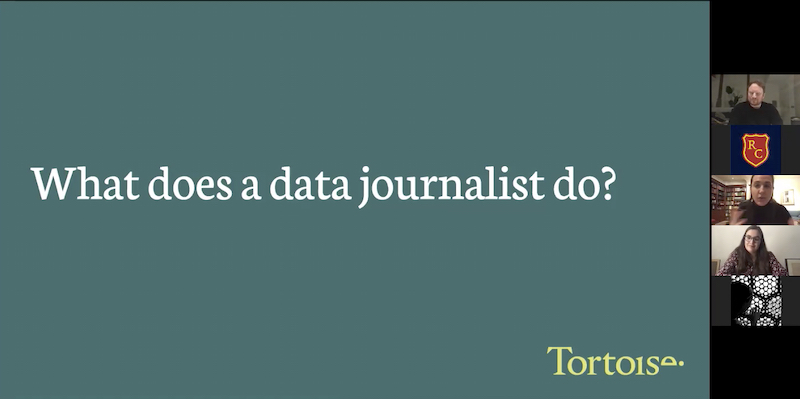 Sofia, on the other hand, is currently planning her first steps to becoming a solicitor, having recently been awarded a training contract at Slaughter and May (a Magic Circle firm). She was keen to stress that over 50% of the places were awarded to applicants who had studied an undergraduate degree other than Law. In fact, during her interview, the questions focused solely on her experiences of studying English, suggesting that the transferrable skills she has developed over the course of her degree were the main deciding factor leading to her selection for the contract. Sofia was effusive in her recommendation to study a non-Law undergraduate degree followed by a conversion course; a qualification that, if a student is lucky enough to obtain a training contract, will be fully funded by that firm.
The final part of the talk covered Patricia's responsibilities as a Data Journalist at Tortoise Media, offering Runnymede's budding journalists an interesting inside scoop on what the role really involves on a day-to-day basis. It was also fascinating to hear about Tortoise Media's revolutionary 'slow news' approach; you can learn more about this here.
The session concluded with a Q&A round from our audience. This time, we were lucky enough to hear from Old Runnymedian Nicolá s Merigó, who has been through a similar process of changing his degree and career path to follow his passion. Our speakers also provided detailed responses to questions relating to mentorship, internships, the Digital Journalism MSc and the truth, or lack thereof, behind the preconceptions surrounding studying an English degree.
It was an absolute pleasure to hear from Patricia and Sofia, and in particular, to learn how the key to success is often found in being true to oneself and pursuing one's fundamental interests. We are sure their stories will inspire many to follow in their footsteps.
Join the Old Runnymedians Network
We would also like to remind you that there are a number of ways that you can get involved with the Old Runnymedians network and stay in touch with your former classmates.
Join the Old Runnymedians database: Give us permission to email you news and about upcoming events by filling in your details in the contact form.
Old Runnymedians LinkedIn group: Join the private OR Group on LinkedIn where you can connect and network with other Old Runnymedians. Don't forget to add Runnymede College as an educational institution on your LinkedIn profile to make it easier for us to find you.
Share your success stories: Please send your success stories to communications@runnymede-college.comcommunications@runnymede-college.com so we can, with your input, publish them on our website and on our social media for our network to see.
Follow Runnymede College on social media: You can follow Runnymede on LinkedIn, Facebook and Twitter to follow the latest news and see what's happening around the school.
We look forward to hearing from you!