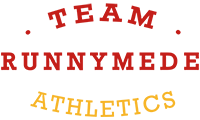 Athletics is one of the most popular sports in Runnymede. In only a few years it has established itself not only within the school but at official competitions in the Comunidad de Madrid, proving time after time the determination and drive of our athletes.
In order to sustain and improve our results, as well as continuing to encourage the enjoyment of Athletics, we have recruited experienced coaches with the suitable qualifications (they all possess the title of National Trainer). This has allowed us to provide a much more personalised system of coaching, with specialised courses depending on the ability and age of the athletes. Pupils practice all track and field events as well as cross country running.
There is also a small High-performance team designed for those pupils who show more commitment and who want to compete in official regional and national competitions. The group will train a further hour (until 18.00) after the regular Athletics training. If interested, or for more information, please email athletics@runnymede-college.com.
Seeing Runnymede athletes standing on podiums has become the usual for Team Athletics. It is great to see that when our pupils are enjoying themselves and learning healthy habits it translates into positive results.