Team Runnymede offers a unique programme for our pupils to discover and improve on these two exciting sports:

For Skiing we have created a fully licensed club led by Manuel Powell (holder of the national ski instructor qualification), and is open to all levels, from complete beginners to those looking to perfect their technique.
Pupils will follow a specifically designed training programme and there is a High Performance programme for pupils looking to compete. This year several of our skiers displayed great performances in Madrid and Spain championship races including a first place in Slalom in Sierra Nevada.
After a successful trial during the 2020/21 season, Team Runnymede will be including a series of Ski Academy trips in its season calendar. Pupils combine morning Ski Training sessions with afternoon lessons and study time. The afternoon Academy is always supervised by Runnymede teaching staff, both in person and online, making the most of our blended learning systems and experience. Our skiers are only allowed to train if they successfully cover the school day's content, exercises and tasks.
Surfing will also be an integral part of the club with its autumn and summer trips to the North of Spain where pupils will be able to fully immerse into the sport and its culture through skating, trekking and much more.
Runnymede pupils may also sign up to any of the programmed Ski and Surf trips individually.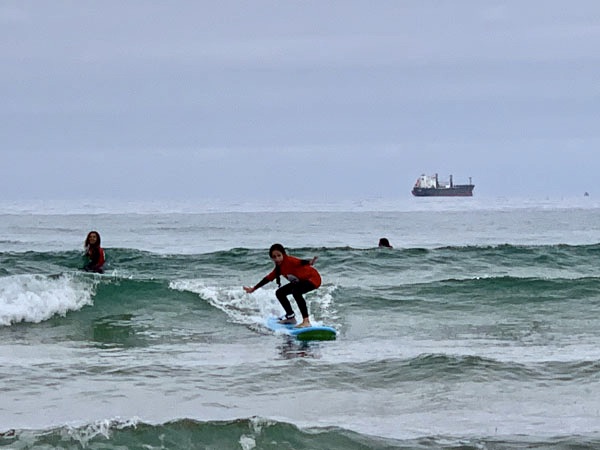 Subject to change following competition event dates and weather conditions)
Pre-Season Activities (Madrid)
Half Term Ski Camp at School

30th October – 3rd November
Academy Ski Trip (Sierra Nevada)
Half Term Ski Trip (Sierra Nevada)
Academy Ski Trip (Sierra Nevada)

Easter Ski Trip (Sierra Nevada)
Club membership features:
High Performance Membership
Individual Ski and Surf Trips
All Runnymede pupils (non club members included) will be able to sign up to any of the programmed Ski and Surf trips individually
Fees will be announced at least one month in advance.
You can enrol your child to the Ski&Surf program on the Parent Portal's Team Runnymede section.
For further information please email us at skiandsurf@runnymede-college.com.