The four years that a child spends in Key Stage 2 will be among some of the most formative in that child's life. When a child starts Year 3, they will be seven or eight years old and at the end of Year 6, that child will be eleven. A lot will happen in that time. It is our aim to guide every child through the challenges of the curriculum in a way that will allow them to cope with the complexities of a rapidly changing world.
We strive to create a happy and safe learning environment where children are encouraged to contribute to the best of their ability. We want all our children to have a 'Growth Mindset', believing in themselves and their ability to keep on getting better and better, striving for excellence. Their points of view are always encouraged and welcomed; they should learn to respect others' beliefs or opinions. Throughout the Junior School we promote tolerance for different races, religions and ways of life. We aim to help the children understand the world in which they live and the interdependence of individuals, groups and nations. In this way we hope to help them develop as confident individuals with lively and enquiring minds.
There is an emphasis on working in groups or with a partner in order to promote working as a part of a team.
At Runnymede, we believe that the teaching of English will not only be of great benefit academically to every child, but that it is also central to their development as tolerant, responsible and caring individuals. Fluency and confidence in a language not only encourages personal communication, it also provides an access into another culture through its literature. Therefore, the children are not only taught how to develop their skills in talking and listening, reading and writing, they are also exposed to a rich variety of literature. Using class and school libraries to meet their own personal tastes; and extracts from classic novels, plays and poetry to become acquainted with the best of English literature, they are encouraged to read deeply into the text to enrich both their understanding and their enjoyment of the story. Using these texts as a model, they, in turn, write their own adventures, plays and poems that they are encouraged to share with others. Each child has individual writing targets and they are continuously assessed and given regular feedback on how to move forward.
Time is also set aside for the teaching of Grammar, Spelling and Handwriting as these are the tools they need in order to express themselves fluently. They are tested regularly in Reading Comprehension, Grammar and Spelling. The results of these assessments are used carefully to help teachers target areas for improvement for each individual.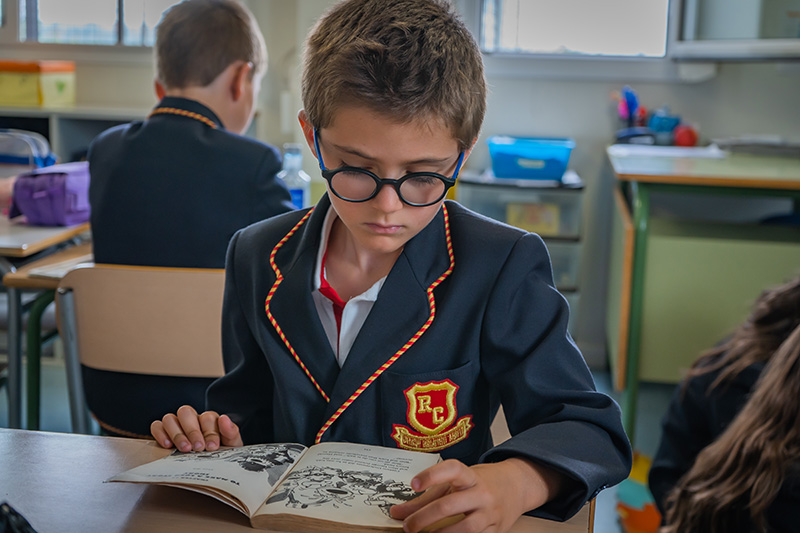 Our teaching of Mathematics emphasises the development of number skills and particularly mental arithmetic, all children are taught mastery of mathematical skills and we also strongly encourage the children to apply these number skills to the world around them. We want to foster in them the feeling that maths is not something confined to the classroom but is a part of their everyday lives.
By asking them to solve problems with a purpose, we hope to equip them with skills that will help them throughout their time in school and beyond. To this end, we give them as many practical activities as we can to capture their interest and enthusiasm. In order to make sure all children are making progress, there are regular assessments and again the results are used to target areas for improvement.
We believe that children will learn far more if the lessons engage them with inspiring activities.
In Science, as in any other of the curriculum subjects, we firmly believe that children will learn far more if the lessons engage them with interesting and inspiring activities. The children will have the opportunity to use the wonderful science laboratories in the Founder's Building. Each Science Topic is assessed and just as in Maths and English, the results are used to feedback to the children about how they can move forward. In Years 3 to 6, each child is assigned an iPad and they learn to use this tool to further their learning still further.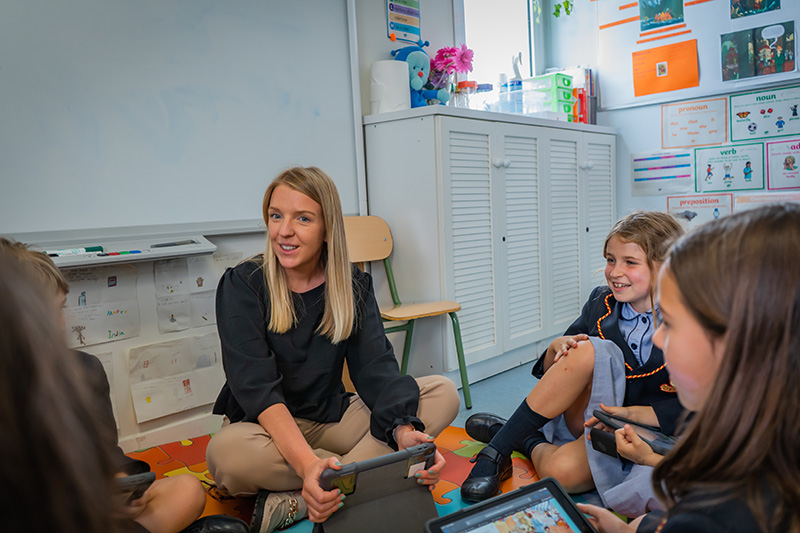 Throughout Key Stage 2, there is an emphasis on working in groups or with a partner in order to promote working as a part of a team. We encourage children to work cooperatively to meet a challenge, be that in Science, Maths or Art and Design. We believe strongly that children should be aware of others' needs and should be able to cooperate in a variety of settings. Children that develop these skills in school will be able to apply them outside of the classroom.
The residential visits which children make in Years 3, 4, 5 and 6 also play their part in fostering this community spirit and feelings of comradeship. From the one night spent away from home by Year 3 to the five days camping in Year 6, we want to broaden the experiences of the children and, very importantly, have fun!
Apart from these, there are educational visits made during the school year to support the curriculum. We regularly participate in Workshops run by the Thyssen Art Gallery or the Science Museum in Alcobendas. There are also a wide variety of educational trips organised by the Spanish department. We take every opportunity to learn outside the classroom.
We want our children to feel positive and happy about themselves and to have opportunities to demonstrate how much they can do. We want them to feel confident in participating in school events such as Sports Day and drama productions. All our children have the opportunity to take part in a School Play produced by each Year Group. We pride ourselves on these productions being inclusive and that we recognise that every child has a contribution to make. They work as a team and see the adults around them doing the same for a common goal.
At Runnymede in Key Stage 2, children are encouraged to take part in a wide variety of extracurricular activities. We actively encourage the children to join the after school sports or musical activities ohered. The school is a regular and very successful participant in inter-school sports events and many children are prepared for musical awards in singing and playing a wide variety of instruments.
Another central part of our philosophy is that children support those who are less fortunate than themselves. Every year an enormous effort is made to raise money for a worthy cause which is chosen each year. The children and parents generously support the school's chosen charity and the children gain a great deal by helping others less fortunate than themselves.
At the end of Key Stage 2, we hope that the children are ready and confident to move on to Secondary education and, above all, that they have enjoyed and benefited both academically and socially from their time in the Junior School. We hope that they have developed into independent, caring and confident people who will embrace new challenges.